The Human Resource Management System (HRMS) is a piece of software that makes it easier for businesses to manage their human resources effectively. It streamlines all HR functions, including recruitment, employee management, performance management, compensation management, and benefits administration.
HRMS provides a centralized database that stores all employee data and enables quick and easy access to this information. The system automates many routine HR tasks, reducing administrative burden and increasing the efficiency of HR processes. HRMS is a valuable tool for HR departments, as it helps them to optimize their operations and improve employee satisfaction.
HRMS Features
A variety of features in HRMS are included to support various HR functions. These features may consist of:
Recruitment Management
The management of the hiring process, from job advertisements to candidate selection, is made easier by this functionality. Reports on hiring activities can be produced using HRMS, which can track candidates, resumes, and interviews.
Employee Management
Employee data, such as biographical data, work history, and training records, can be tracked by HRMS. Additionally, the system can automate processes like performance reviews and disciplinary actions and manage employee files.
Performance Management
HRMS can monitor employee performance and offer resources for goal-setting, progress monitoring, and performance reviews. This function can assist managers in identifying top performers and offering feedback to enhance performance.
Compensation Management
The management of employee remuneration, including salary, bonuses, and benefits, is possible with HRMS. The system may produce reports on compensation activity, monitor changes in employee pay, and support timely and correct payment of employees.
Benefits Administration
HRMS can manage employee benefits, including health insurance, retirement plans, and other benefits. The system can monitor changes to employee enrollments, produce data on benefit activities, and help make sure that employees are receiving their legal entitlements to benefits.
Benefits of HRMS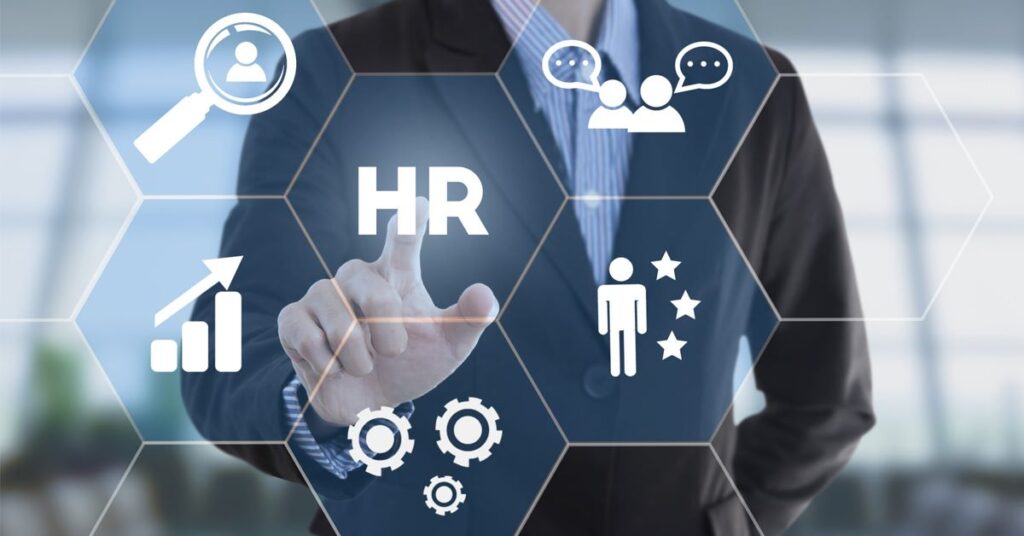 The advantages of HRMS for businesses include:
Increased Efficiency: Many routine HR tasks can be automated by HRMS, which lowers the administrative burden and frees up time for more strategic HR activities.
Improved Accuracy: By ensuring that employee data is accurate and current, HRMS can assist businesses lower errors and compliance concerns.
Better Decision Making: In order to help managers make better decisions, HRMS can give them access to real-time data on employee performance, salary, and benefits.
Enhanced Employee Satisfaction: Employees may have access to their own data, including pay stubs and benefit details, using HRMS. This can improve employee satisfaction and lessen the workload of HR employees in terms of responding to employee questions.
Greater Compliance: HRMS can assist in ensuring that businesses abide by labor rules and regulations. The danger of fines and penalties can be decreased by the system's ability to manage employee data and produce reports on compliance activity.
Implementation of HRMS
Implementing HRMS requires careful planning and execution. Generally, the process consists of the following steps:
Define Requirements
Based on their unique demands and objectives, organizations should specify their HRMS needs. This can entail assessing current HR procedures and locating areas for development.
Select a Vendor
Organizations should choose an HRMS vendor that satisfies their needs and has a successful track record.
Configure the System
The processes, fields, and reports of the HRMS should be customized to the needs of the organization.
Data Migration
The HRMS must be used to migrate employee data from current systems, making sure the data is correct and comprehensive.
Testing
To make sure that HRMS is operating properly and fulfilling the needs of the organization, it should be carefully tested.
Training
Users of the HRMS should receive training on how to use it efficiently, including the best methods for entering data and reporting.
Conclusion
Modern HR departments need an HRMS because it offers a variety of functions that may be used to streamline HR procedures and raise employee satisfaction. The technology can ease administrative burdens, minimize compliance concerns, and assist organizations streamline their HR operations. In order to help managers make better decisions, HRMS also gives them access to real-time data on employee performance, salary, and benefits.