Enterprise resource planning (ERP) is a potent tool that streamlines business processes and aids in resource management for enterprises. Project management is one area where ERP may have a big impact. Businesses can enhance communication, collaboration, and decision-making throughout the organization by incorporating project management into their ERP system. We'll talk about the advantages of ERP for project management in this blog post and how it may aid organizations in streamlining their project management procedures.
What is Enterprise Resource Planning?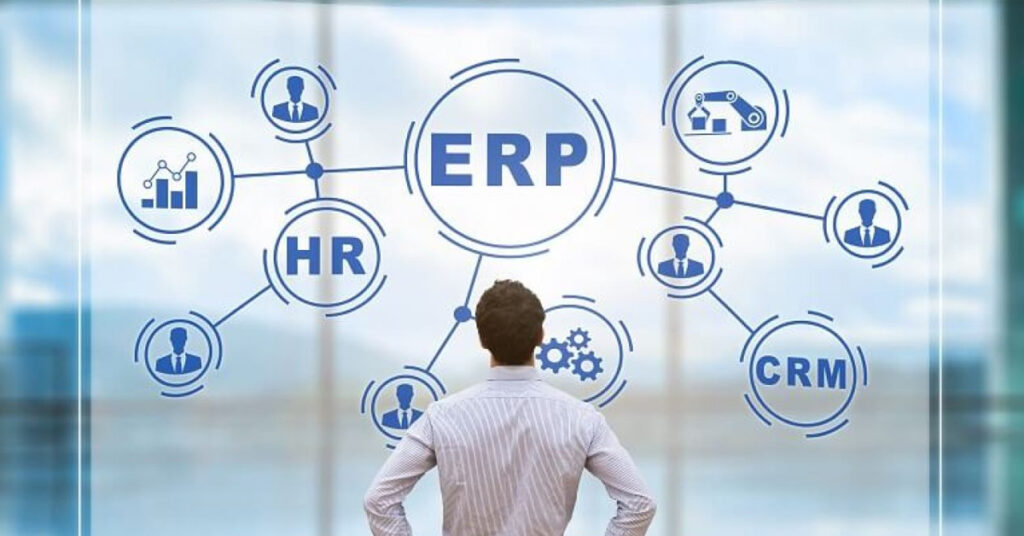 Enterprise Resource Planning (ERP) is a software system that helps businesses manage their core business processes, such as accounting, human resources, supply chain management, and customer relationship management. An ERP system offers a centralized view of the organization's activities by integrating many business processes into a single platform.
ERP for Project Management
ERP for project management is an approach that integrates project management functionalities into an organization's ERP system. This approach aims to offer a centralized platform that makes project planning, execution, and control easier. Many features, such as resource management, budgeting, scheduling, time tracking, and reporting, are offered by an ERP system for project management.
Benefits of ERP for Project Management
Improved Collaboration
Improved collaboration is one of the key advantages of ERP for project management. ERP systems give project teams a centralized forum for interaction and collaboration. By ensuring that everyone on the team has access to the most recent project information, it will be simpler to coordinate efforts, handle problems, and come to wise conclusions. ERP systems assist in ensuring that all team members are contributing to the project's overall aim by fostering collaboration.
Enhanced Project Visibility
ERP for project management gives firms real-time project visibility. Organizations can gain a real-time perspective of project progress, including work completed, tasks pending completion, schedules, and budgets, by integrating all project-related data into a single system. Due to increased visibility, project managers are better able to recognize potential difficulties as they arise and take appropriate action before they worsen. By giving project managers accurate and current information about the project's status, real-time project visibility makes ensuring the project is moving forward as planned.
Improved Resource Allocation
ERP for project management offers a comprehensive picture of resource availability and utilization across various projects, which aids firms in making resource allocation decisions. As a result, resources can be allocated to projects depending on availability and skill set, enabling project managers to maximize the utilization of resources. By properly allocating resources, one can increase productivity and decrease downtime by ensuring that the right people are working on the correct tasks at the right time.
Better Financial Management
ERP solutions integrate project-related financial data into a single system to assist firms in managing project finances more efficiently. The ability to track project expenses in real-time, spot potential cost overruns, and act appropriately to keep projects on a budget is all made possible by this. ERP systems assist firms in managing project budgets more efficiently, lowering the risk of overspending and guaranteeing that the project is finished within the budget allotted by giving a real-time view of project finances.
Improved Project Planning and Scheduling
ERP systems give project managers the resources they need, such as task dependencies, resource availability, and critical path analysis, to design and manage project schedules. This aids businesses in ensuring that projects are completed on schedule, within budget, and to the desired level of quality. ERP systems assist project managers in developing realistic project plans and schedules, which are crucial for guaranteeing the completion of projects.
Enhanced Risk Management
Project managers can detect and reduce project risks with the help of ERP systems. Project managers can proactively reduce project risks by examining previous data and forecasting potential risks depending on the circumstances of the present project. Ensuring successful project delivery lowers the risk of project failure.
Better Project Reporting and Analytics
ERP systems provide project managers with a wealth of project-related data, including project progress, resource utilization, and financial data. Project managers can view project performance in real-time using reports and dashboards created from this data. This enables them to pinpoint areas for development, make data-driven choices, and guarantee the success of projects. ERP systems assist project managers in making knowledgeable decisions about their projects by providing real-time project data.
Preliminary Considerations
When implementing an ERP system for project management, it is important to consider the following factors:
Compatibility: To achieve seamless integration, the ERP system should be compatible with existing systems and procedures.
Scalability: To allow potential expansion and modifications in business requirements, the ERP system should be scalable.
User-friendliness: For team members to use the ERP system efficiently, it must be user-friendly.
Security: To protect confidential data and information, the ERP system needs to be secure.
Cost: It is important to weigh the expense of the ERP system against the advantages it can offer.
Conclusion
ERP for project management offers businesses a wide range of advantages that make it easier for them to efficiently manage their projects. ERP systems assist organizations in ensuring that their projects are completed by fostering collaboration, improving project visibility, improving resource allocation, better financial management, project planning, and scheduling, enhancing risk management, and offering better project reporting and analytics. Organizations can enhance productivity, save expenses, and streamline their project management procedures by putting money into an ERP system.