Before you decide on implementing ERP software for business, there are few very important aspects you need to know. This article will help you understand the significance of the ERP system that you need to know before deploying ERP Software for business. It also explains how it can prove beneficial for your company.
The blog guides you to better understand What ERP is? Before implementing an ERP software system on your business this article will help you to better understand how can business management software up in managing your business.
What is ERP?
Definition of Enterprise Resource Planning (ERP)
ERP stands for Enterprise Resource Planning system is a software for small and big business setup use to control and manage their daily business activities on business premises like all type operations of the supply chain, Inventory manganate tasks, project management, risk management, accounting, procurement, and compliance as well. A good ERP software also highlights key features of a business for example how the business is performing, ERP System software that helps plan, budget, predict and report on a business's financial results year by year.
ERP software integrates a wide range of business processes and allows data flow between them. By collecting shared organizational data from multiple sources, ERP systems eliminate data duplication and provide data integrity with a single true source.
Today, ERP systems are very important in managing thousands of businesses of all sizes and in all industries. For these companies, ERP is just as important as the electricity that keeps the lights on.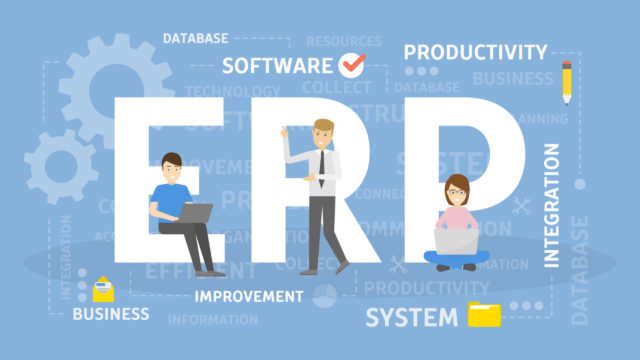 ERP systems are designed around a single, defined data structure (schema) with a standard database. This helps to ensure that the information used in the business is standard and is based on standard definitions and user experience. These basic structures are then linked to business processes driven by the flow of work across all business departments (eg finance, labor, engineering, marketing, operations), communication systems, and users. Simply put, ERP is a vehicle for integrating people, processes, and technologies into modern business.
For example: think of a car manufacturer that buys parts and components from many suppliers. It can use the ERP system to track the demands and purchases of these assets and ensure that each component in the entire purchase process for payment uses the same and clean data linked to business operations, business processes, reporting, and analytics. When ERP is properly distributed to the automotive company, the component, for example, "front brake pads," is identified by partial name, size, equipment, source, bulk number, supplier part number, serial number, cost and specification, and a host of other descriptive and data-driven features. Since data is the lifeblood of every modern company, ERP makes it easy to collect, organize, analyze, and disseminate this information to everyone and the system that needs to effectively fulfill their role and function.
ERP also ensures that these data fields and symbols are transferred to the appropriate account in the company's standard ledger so that all costs are properly tracked and represented. If the front brake pads are called "front brakes" on one software system (or perhaps a set of spreadsheets), "brake brakes" on the other, and three "front packs", it would be difficult for a car manufacturer to find out how much money is spent annually on the previous brake pads, and whether it should change suppliers or negotiate better prices.
Key Goal of ERP
The key goal of ERP is centralized data collection for broad distribution. Instead of a lot of standalone data with an endless collection of cut-out spreadsheets, ERP programs bring order so that all users – from CEO to paid clerk accounts – can create, store, and use the same data available through common processes. With secure and moderate data storage, everyone in the organization can ensure that the data is accurate, up-to-date, and complete. The reliability of the data is guaranteed for all work performed throughout the organization, from the quarterly financial statement to the single income statement, without relying on error-prone spreadsheets.
It is impossible to ignore the impact of ERP on the current business world. As business data and processes are integrated into the ERP system, businesses can align different departments and improve workflow, resulting in greater line-up savings. Examples of specific business benefits include:
Business Value of Connect ERP Software System
Complete business insight
Real-time information of all about the business operation's generated through dynamic reports
Minimize operational costs
Connect ERP with consistent business processes and best practices to minimize the operational cost
Maximize work collaboration
From users sharing data in contracts, requisitions, and purchase orders
Improved output efficiency
Through a common user experience across many business functions and well-defined business processes
Through unified infrastructure of the enterprise resource planning system. the business activity looks and feels the same
User-adoption rates from a common user experience and design remain high
As data is integrated and live always through dynamic reports and complete control on the financial risk of any business through enhanced data integrity risk in business are always remained on the lower side
Lower management and operational costs
Due to integration in enterprise resource planning software integration, the requirement of management on the lower side which sufficiently reduces operation cost
Quick Implementation Timeframes
Take time to implement a bad infrastructure enterprise resource planning
Quick software support where others take weeks sometimes months
Reduction in cost of future support
Implementations with proper planning through certify Engineers of Connect enterprise resource planning, reduce on-support costs
Through best implementations in Connect enterprise resource planning systems ensure implementing the security protocols for users
Get started with Connect ERP
With access to these Connect ERP, a business can quickly improve their financial turnovers by improving in their practices as the ERP software evolves. They can perform flexible procedures that required heavy manual intervention, such as synchronizing financial accounts. In addition, users gain a complete, real-time understanding of business operations not only in the front office, but also in warehouses, factories on the floor, and everywhere in the business. This information is readily available in all relevant applications on their mobile devices, including Smartphones and tablets.
Contact Us
Phone: 0300 1110365
Mail: info@connect-sol.com